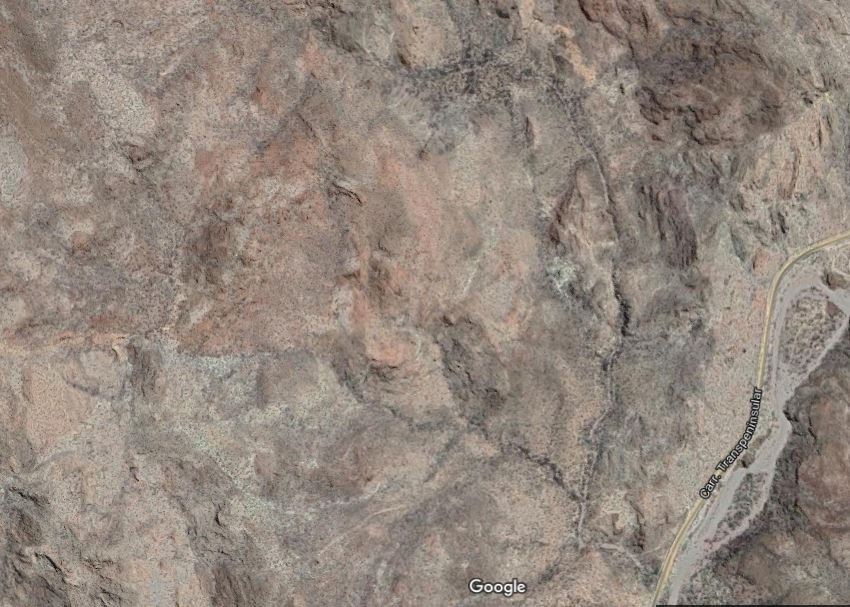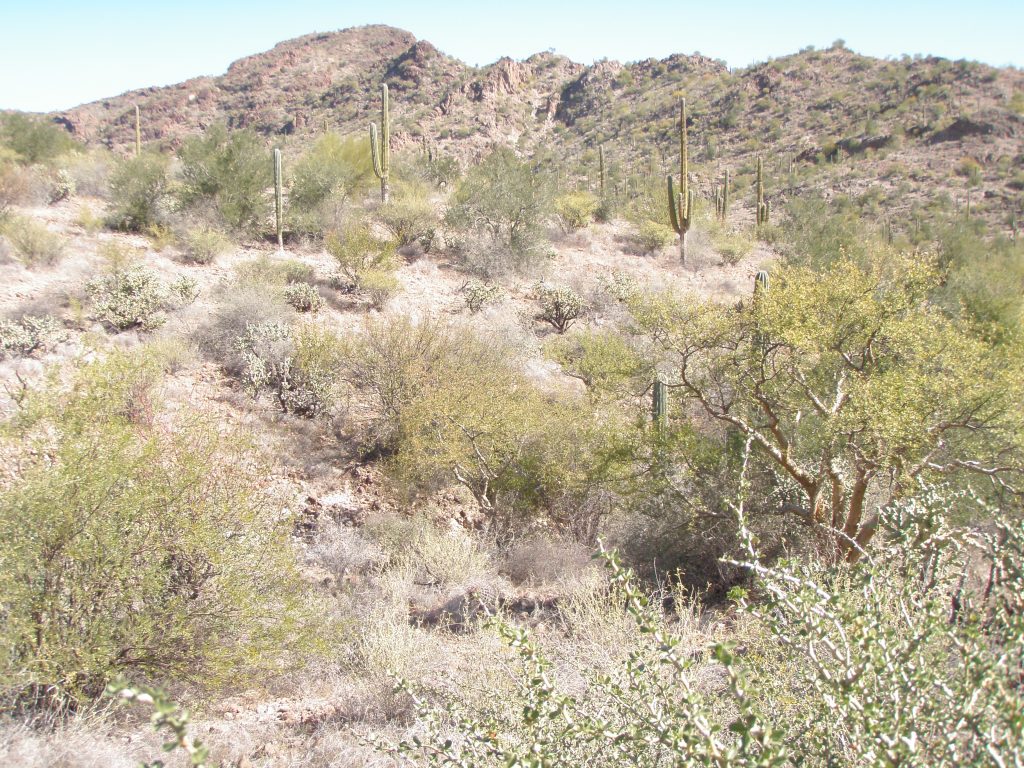 MIDDLE ARROYO starts at the main Highway #1 at about KM marker 104.5 south of Coyote Beach at 26.70289, 111.91555. This arroyo was also looked at using Google Earth but some cave prospects were easily visible from the highway while driving. Parking out of sight at the highway is possible.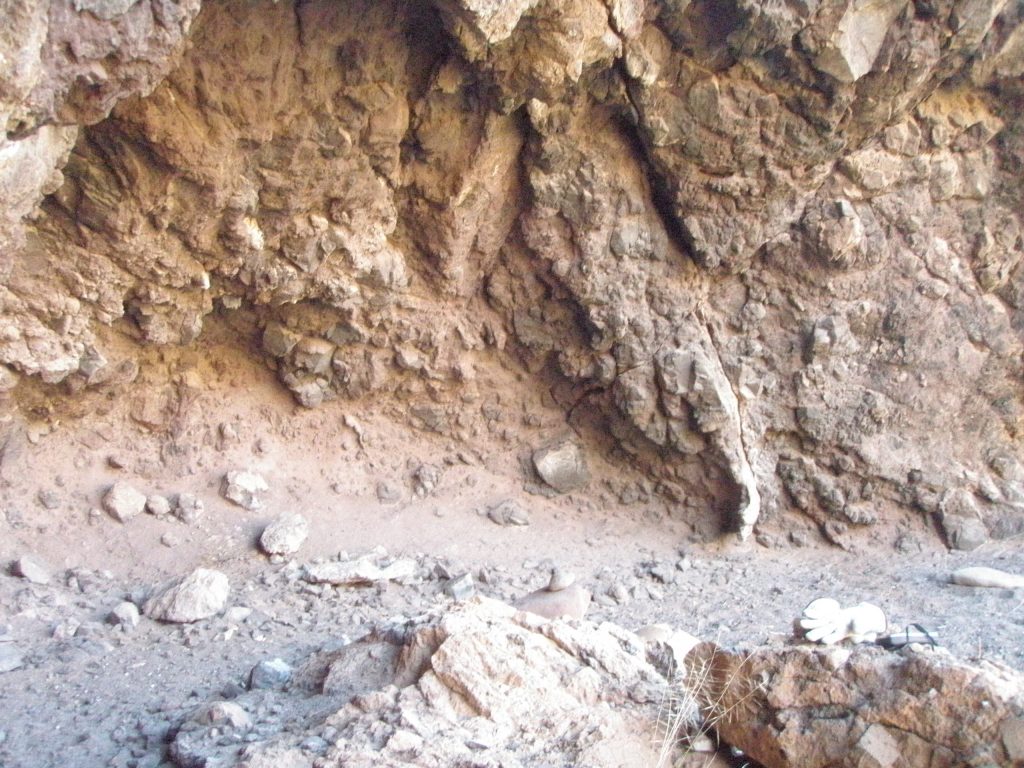 Cave SBMidC1 is visible from the highway and about 150 meters from it. 26.70387, 111.91583 and altitude of about 55 meters. The cave is facing west and is about 20 meters wide, 4 meters high and 4 meters deep. The cave is about 20 meters above the arroyo with a fairly easy access. There is a dirt covered level floor. There are two Metates there and maybe 1 Mano. Cave structure was volcanic tuft. No shells were evident. No midden seen. No art in the cave.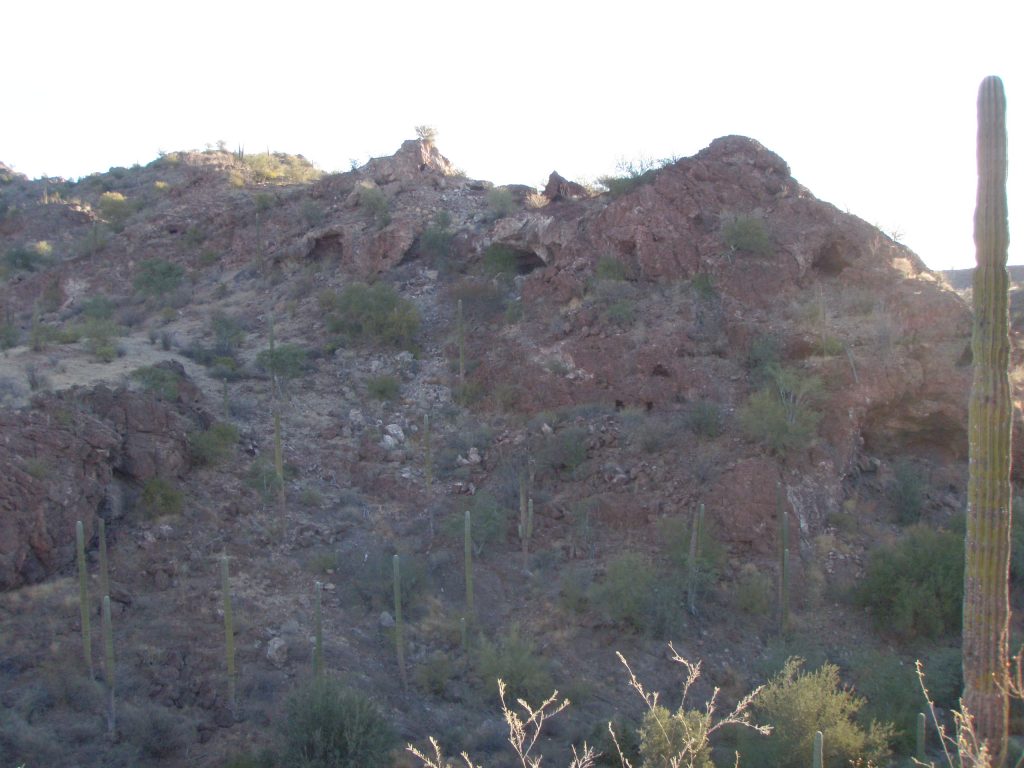 Cave SBMidC2 is not visible from the highway and relative to C1, is slightly higher up closer to the ridge of the hill and to the left (north). 26.70456, 111.91518 and altitude of 73 meters. This Standard cave is about 10 meters wide, 3 meters high and 5 meters deep and also faces west.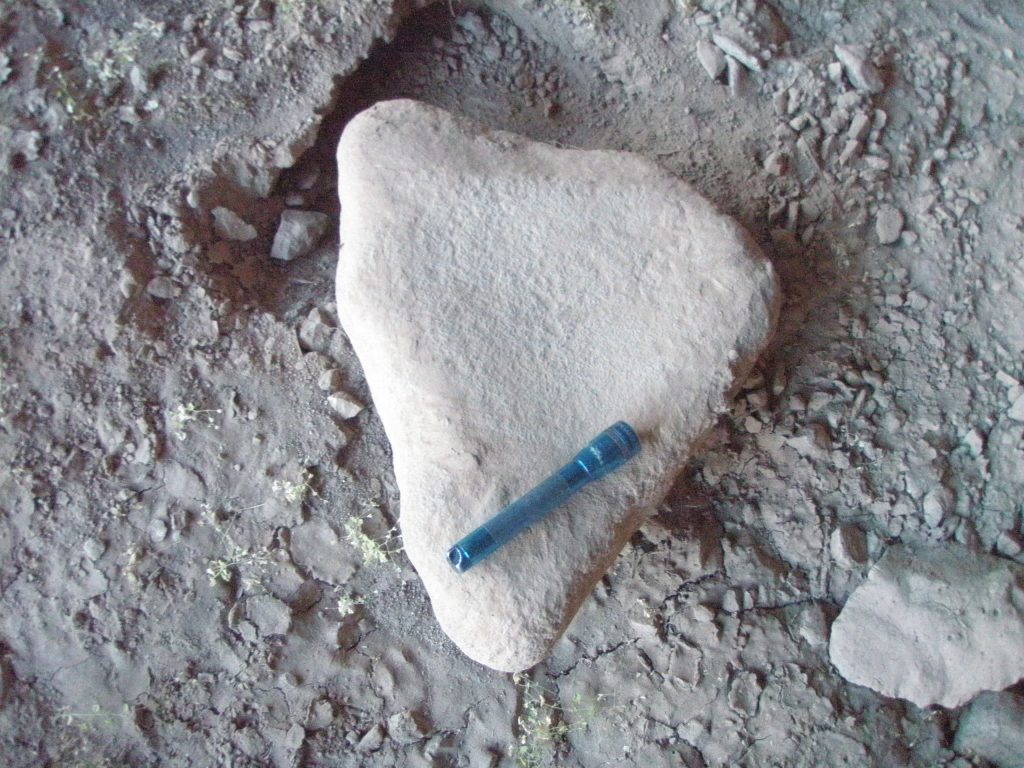 One of the Metates in SBMidC2.
This cave had a smooth floor and 2 Metates were here. Some shells were evident. Cave structure was volcanic tuft. No art.
There are other shallow shelters in the immediate vicinity also.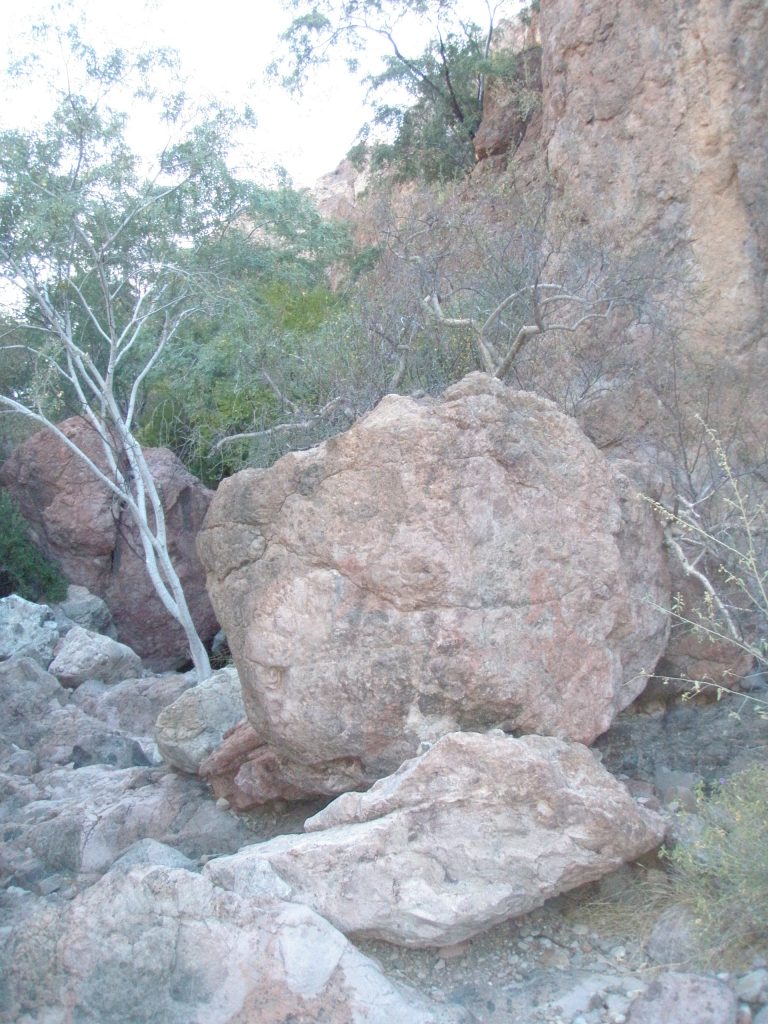 Proceeding north up the arroyo and bearing right (east) till way was blocked by a very narrow canyon wall on each side and a jumble of large car size boulders at 26.70878, 111.91446 and about 60 meters elevation. This was about 2km from the highway. No further caves were spotted.

Retraced steps and headed west into a central arm of the arroyo and proceeded up till again way was blocked by narrow canyon walls and large boulders in the arroyo at 26.71074, 111.91565 and altitude 86 meters.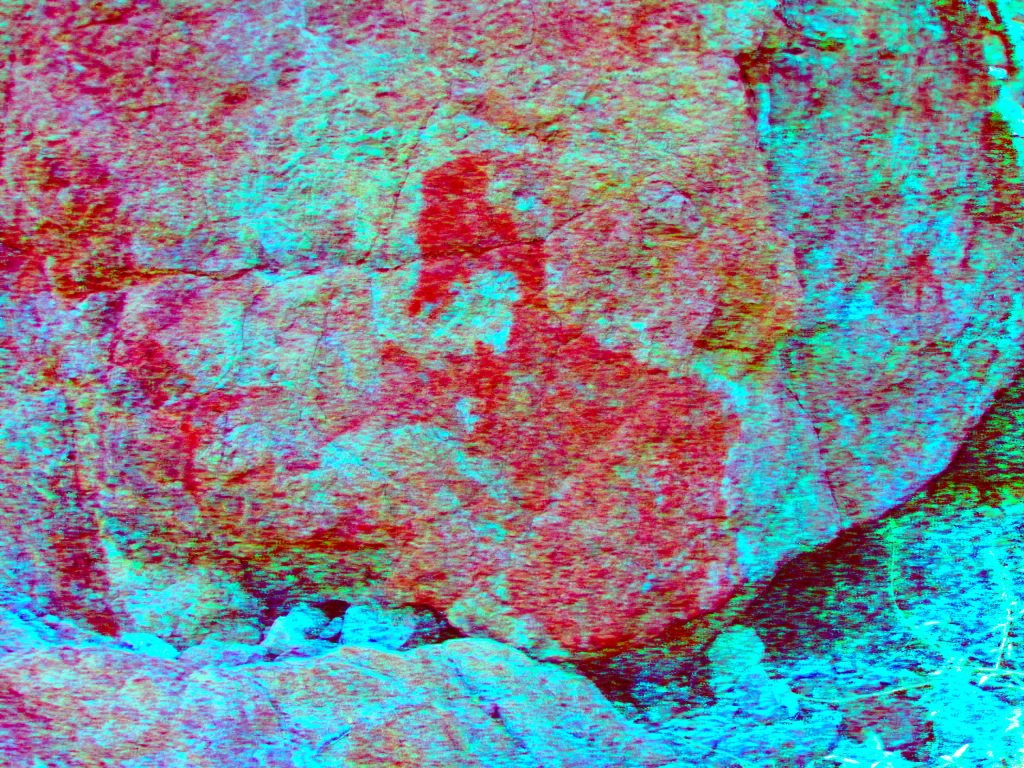 One of the rocks had a natural colouring that when enhanced using Dstretch could be interpreted as a pelican?
Photo Mid Canyon rock
Retraced steps and again headed west then north into the westmost arm of the arroyo. After a short distance in this arroyo I came across a natural Lava Dyke that followed the fall line of the terrain down to the arroyo.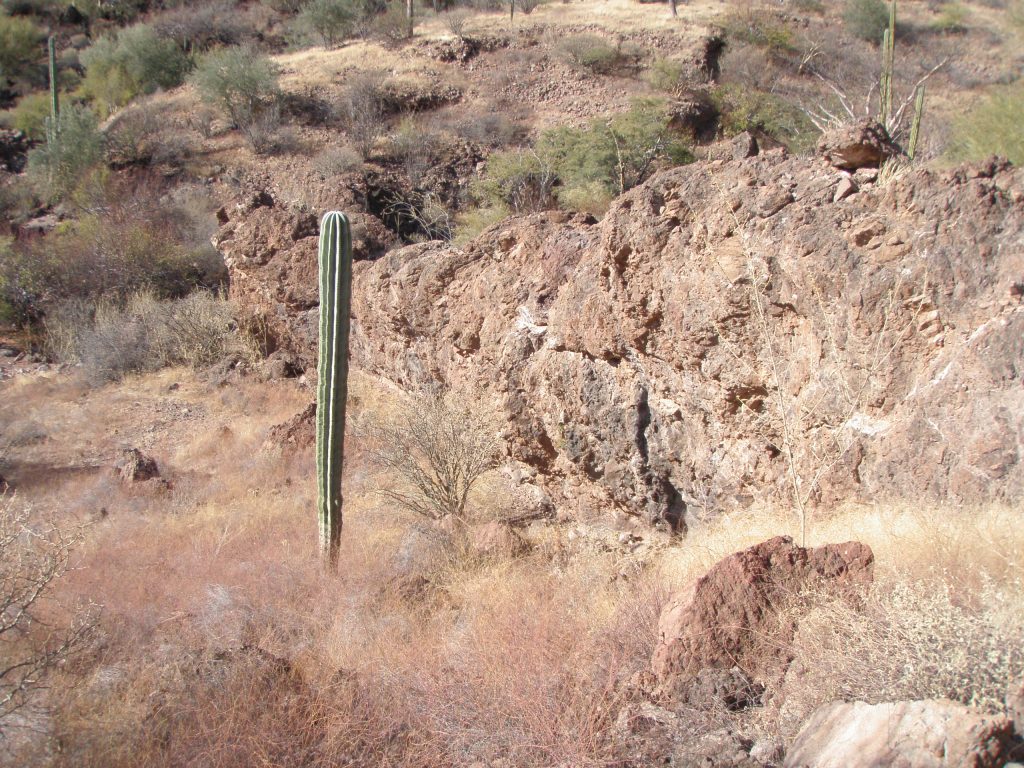 Lava Dyke at 26.70750, 111.91763. This Dyke was about 150 meters long, and about 3-4 meters high and would effectively block any game from traversing the hillside at this location. A location where ambush style hunting could take place. Game trails were evident in the area, converging towards the uppermost end of the Dyke. Spear and arrow points might be recovered here with some diligent searching.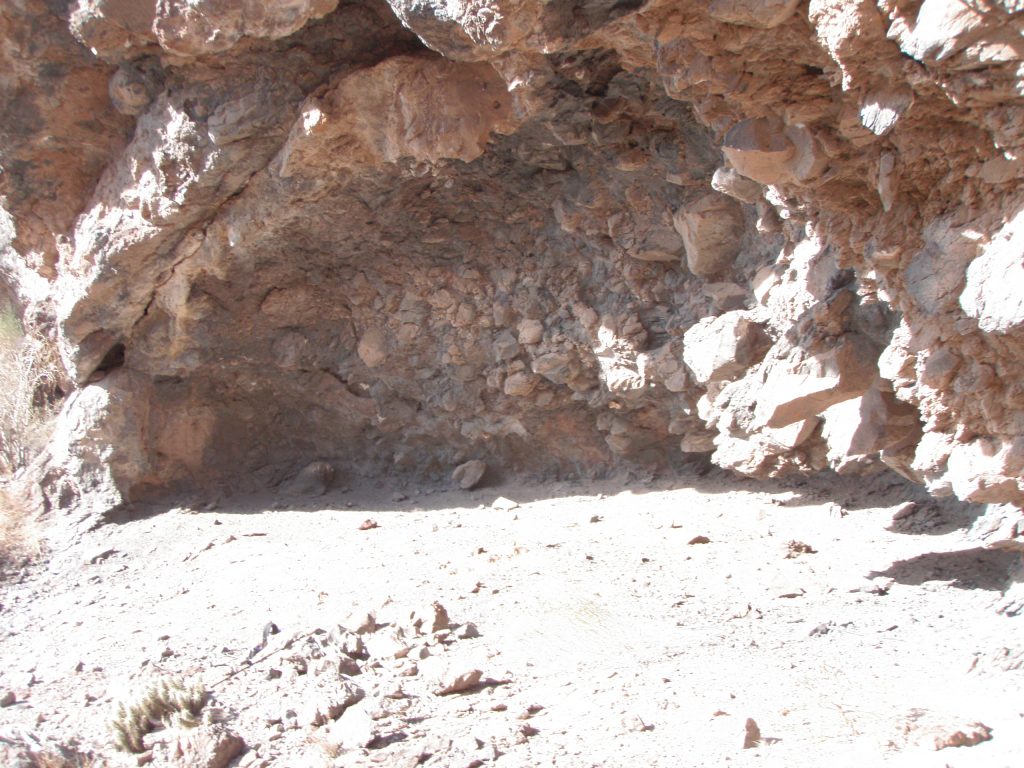 Cave SBMidC3 is visible from the highway at about 2kms distant at 26.70932, 111.91884 and about 118 meters elevation. This is a large south facing standard cave about 20 meters wide, 10 meters high and 8 meters deep. The floor of the cave was level and had a layer of dirt.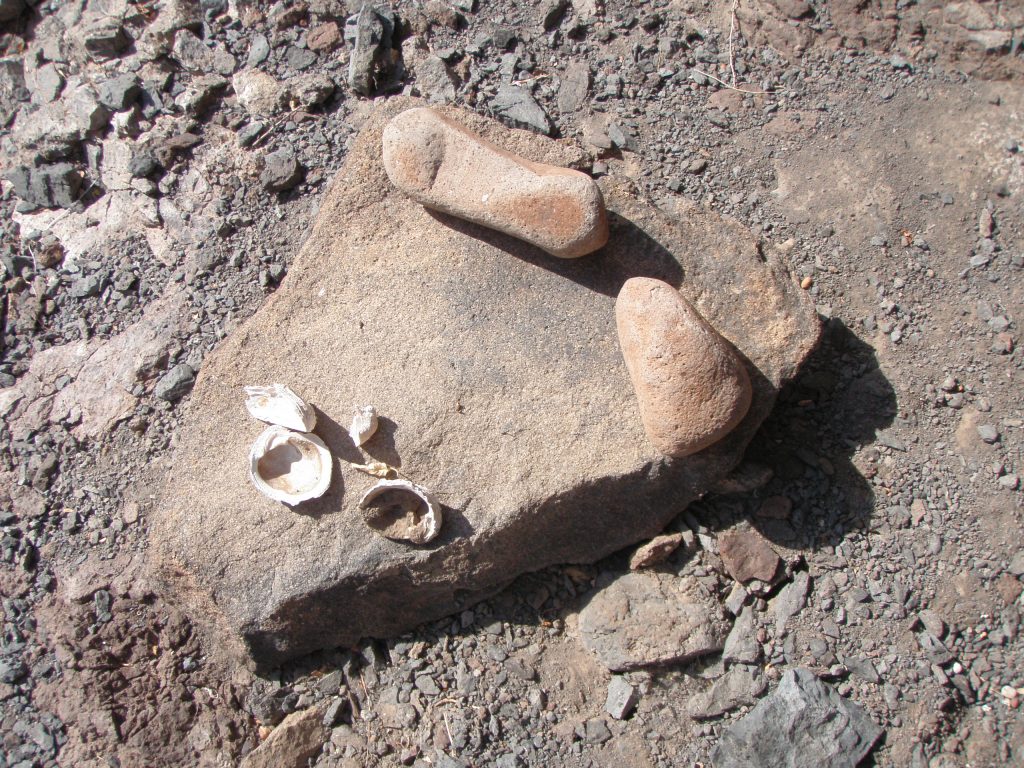 There were 2 Metates and what could be two Manos here. There were shells evident and also many shards of close grained rock like Andesite.
The course of the arroyo here is steep and its average level was only a few meters below the level of the cave and had many Tinajas evident in the base rock. No art in cave. A small showing of shells in and around the cave was evident here.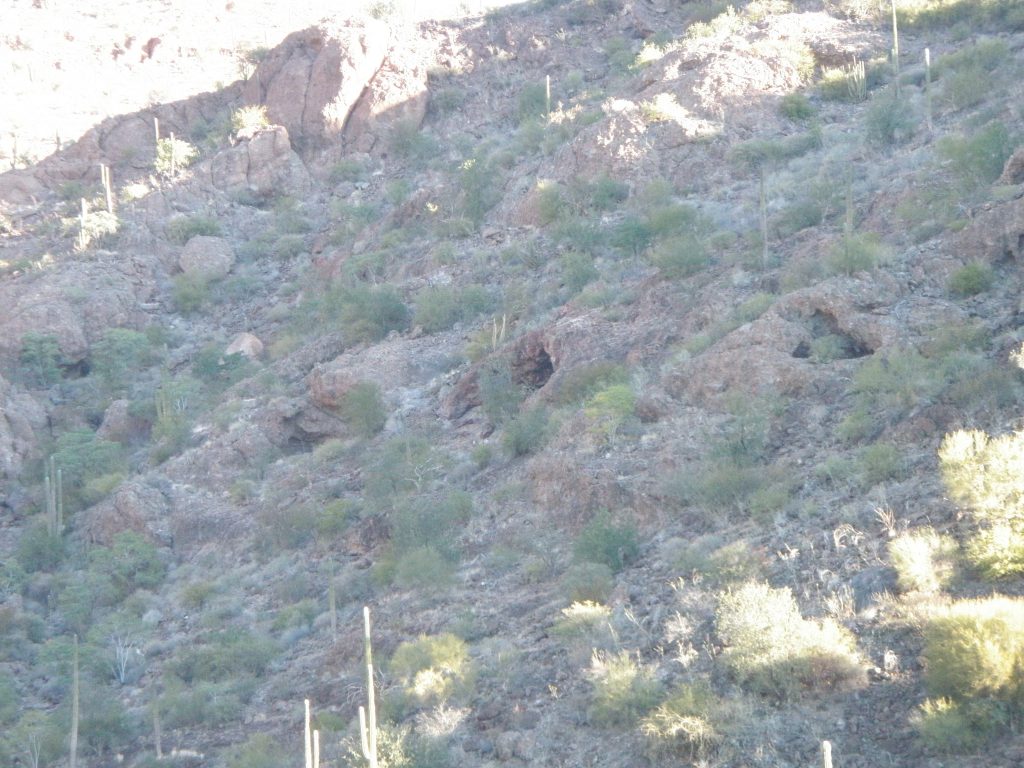 One nearby cave was about 200 meters east of C3 across the arroyo and about the same altitude but facing Northwest and not visible from the highway. This cave looks large and as it faces away from the sun would be a better candidate for habitation. It is about 50 meters above the arroyo and will be quite a scramble over rocks to get there. Once there however, an easier route down may be evident. There are other caves to the west of C3 as well.
Second trip to this arroyo made February 2nd 2017. On this visit the vegetation was quite green and there was numerous occasions of recent deer droppings. Many doves in area in early morning.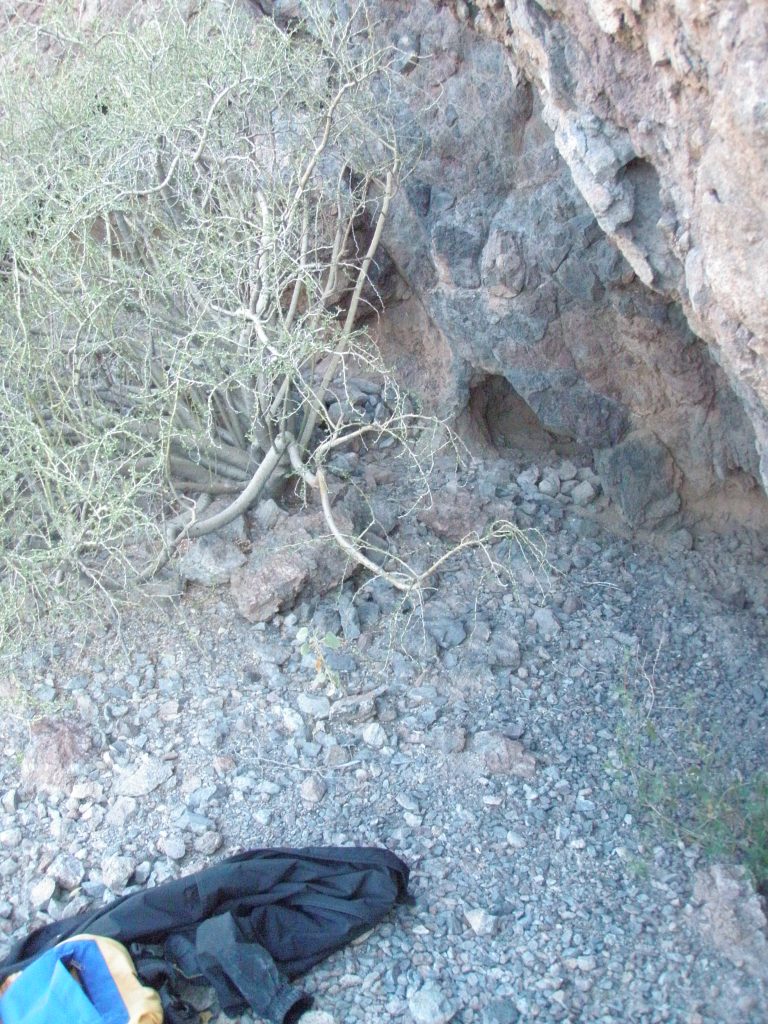 Cave SBMidC4. 26.70830, 111.91804. About 107 meters elevation and about 1km from parking area. Standard cave facing southwest. About 6 meters wide, 2 meters high and 2 meters deep. Steep climb from arroyo. Nothing in cave. Other smaller caves above this one were not visited.
C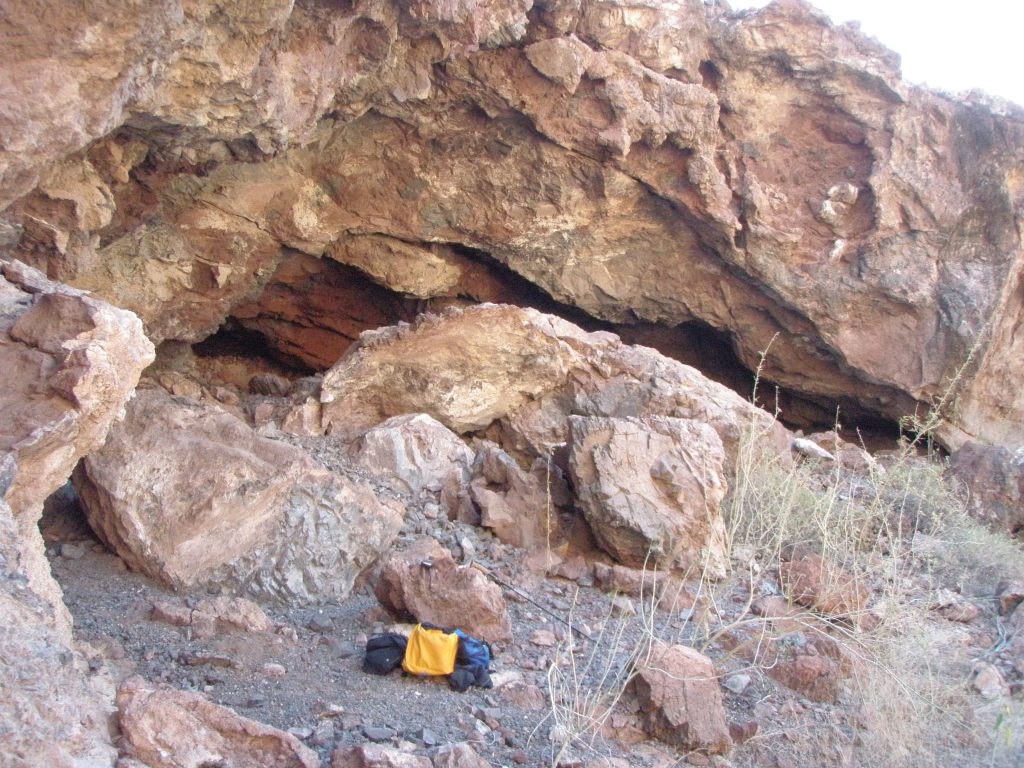 Cave SBMidC5 26.70873, 111.91827. 110 meters elevation. Large standard cave facing west 30 meters or so above the arroyo on right (east) side. 20 meters wide, 5 meters high and 6 meters deep. Recent historical rock fall of front overhang may have covered any evidence of cave use. Volcanic tuft and some Andesite. Some shards evident from possible knapping. Nothing else.
Cave SBMidC6. Large shelter about 30 meters north of C5 at about the same elevation, facing west. 15 meters wide, 4 high, 4 deep. . This is one of the caves directly opposite Mid C3 that was thought to be a better prospect for habitation. Nothing visible here. Two other smaller cave in area also contained nothing. No pictures
Cave SBMidC7 Cave/Shelter facing south at 26.70887, 111.91923. 8 meters wide, 3 meters high and 3 meters deep. About 110 meters elevation. However nothing was evident on examination of this cave. No art, no shells etc. In this area there are three more shelters slightly to the west that were examined. Nothing was found.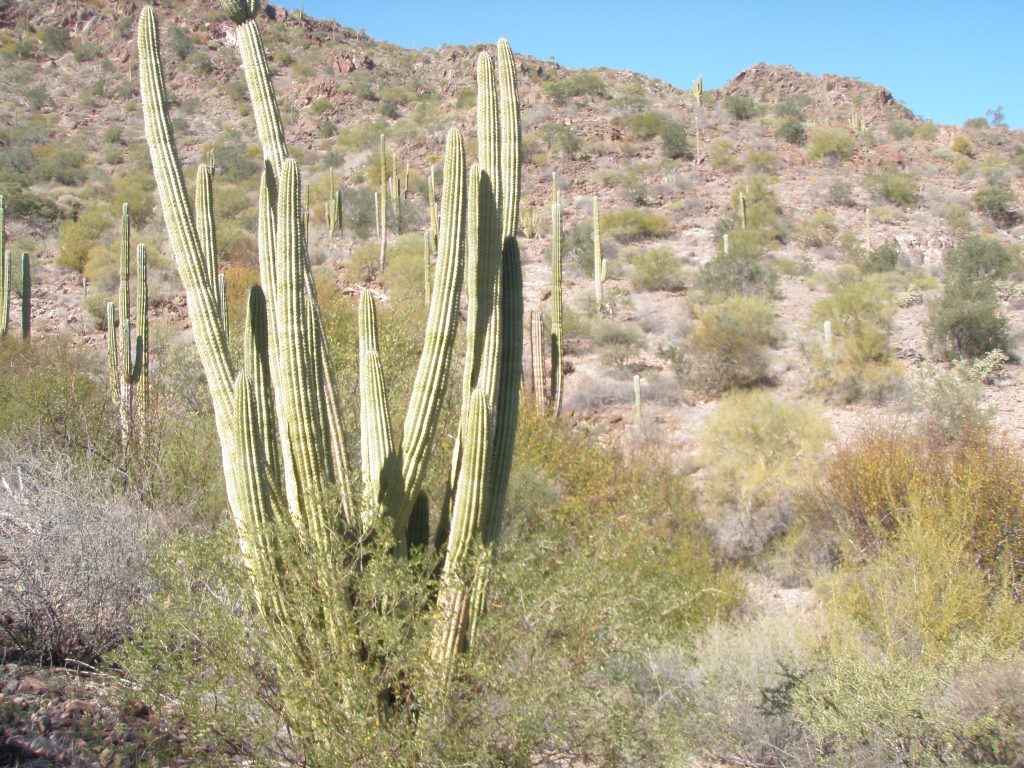 In this section of the Santa Barbara arroyo there are flat bench areas that support plentiful tree and cactus growth that would have been a seed and fruit gathering location for the Cochimi.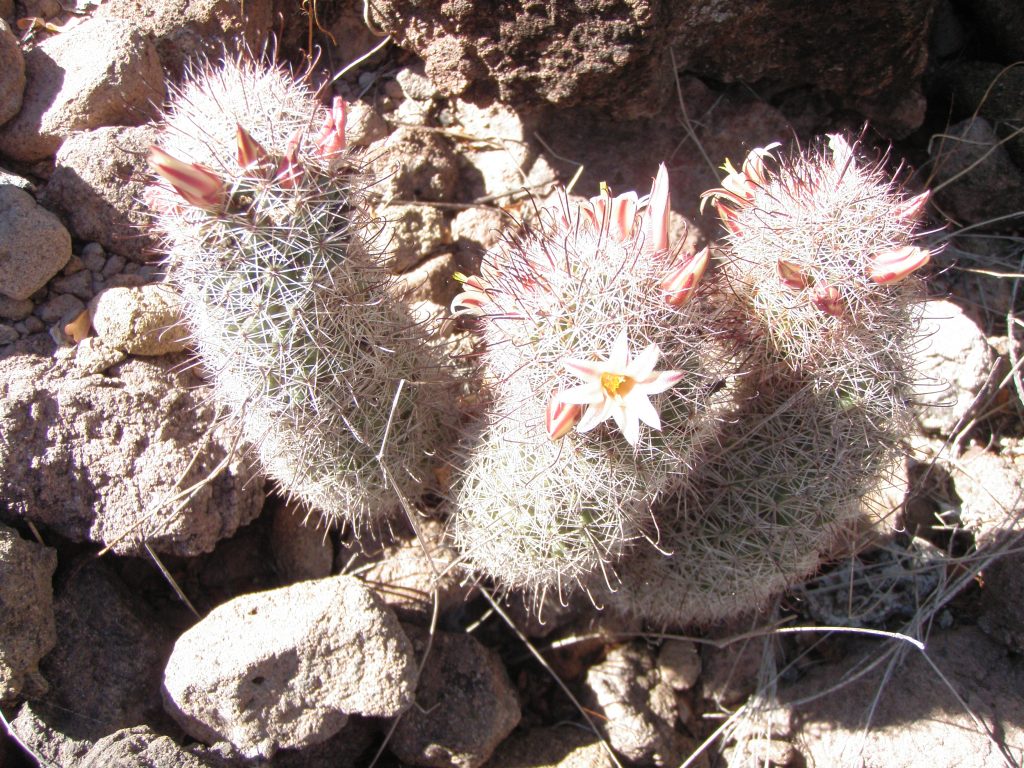 Small cactus bearing flowers in February produce a sweet red fruit later. The trick is getting the tasty fruit without impaling your fingers on the thorns.